The Indian Automotive Industry, which includes component manufacturing, is expected to be the world third-largest market in terms of volume by 2026
Quite impressive, isn't it?
The Automotive Industry comprises many companies, organizations, and engineering activities involved in manufacturing motor vehicles. They are responsible for manufacturing and supplying components such as engines and bodies or end-to-end automotive parts, excluding tires, batteries, and fuel.
Digital Manufacturing technologies contribute to the evolution of product development, manufacturing, production, and quality control of vehicles and parts. Today Figure-4 series 3D Printers are making their way into the automotive industry. They have proved their worth by making production 3d printing into reality in the automotive industry.
To begin with, in this blog, we will discuss "The Top 5 3d Scanning applications in the automotive industry in 2022 with live case study examples".live case studies.
3D Scanning for Automotive
We will not talk about 3d scanning technologies and how 3d scanners works? In this blog, this will be too detailed to discuss. In the Automotive industry, There are different types of 3D scanners used to 3D scan entire vehicles, parts, assemblies, and the list goes on. The 3D scanner works by capturing data from a physical object's surface to describe its shape accurately, digitally, and three-dimensional. high-quality 3D scan data is generated from the 3d scanner. The resulting 3d scan measurement data enables faster, more accessible digital analysis and inspection in a visual, in-depth reporting method. 3D scanned output is used as a reference to develop CAD using Digital reverse engineering technics to replicate parts,
Here are the top 5 applications of 3D Scanning in the Automotive Industry.
Normally, this kind of challenge would test the 3D Scanner in terms of how it would perform when scanning a small-sized object like a strawberry. The fine details of strawberry-like crevices and seeds push the 3D Scanner to scan up to its maximum capabilities.
This is where our PRECISE3DM's Einscan SP comes into play.
Einscan SP is a most affordable desktop 3D Scanner designed to capture small to medium size objects. It is based on structured light technology. The Auto Scan mode uses the rotating turntable. It is versatile, fast, and optimizes scan time. Einscan SP provides a high accuracy of 0.05mm for a single scan. It has the great power of reconstructing the geometry of the object with fine details.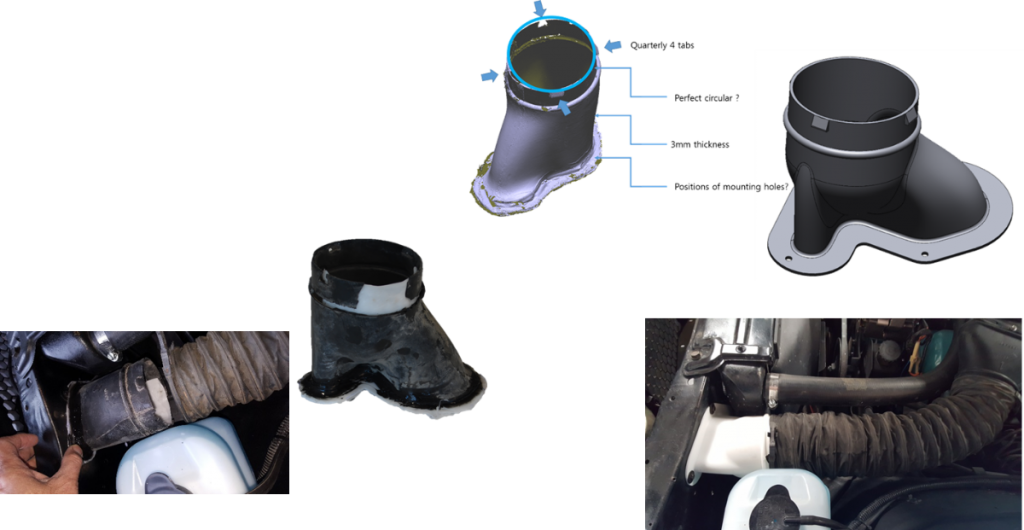 What if any automotive dealer is looking for components that are not available locally? 3D Scanning followed by printing can create these components for any automotive dealer located in any part of the world. No molds or cavities are required whatsoever. Plus, there are no constraints such as MOQ (Minimum Order Quantity). Oh, you can keep aside your vernier calipers and other conventional metrology tools as well. Engineers are now equipped to connect 3D scan data from multiple automotive parts produced in remote manufacturing locations for assembly within the 3D software. This digital assembly process enables them to assess the fit of such components before physical parts are mass-produced and shipped.
Generally, passenger cars are customized by the owner to match their taste as car enthusiasts or petrolheads see a car as an extension of their personality. Suspension upgrades, the addition of turbochargers and superchargers, sporty seats, paint jobs, and more are the popular demands for vehicle customization. But….., customization is not limited to just passenger cars. Racing cars and commercial vehicles can be customized too for myriad reasons.

Need to re-design the chassis of a racing car to accommodate a new engine model? We have your back. we Precise3DM can help custom vehicle modifiers customize the chassis by leveraging 3D Scanning and conversion into a manufacture-ready CAD design with a quick turnaround time. 3D Scanning is a tried and tested technology. Hence, the re-designed car body is as accurate as the original body.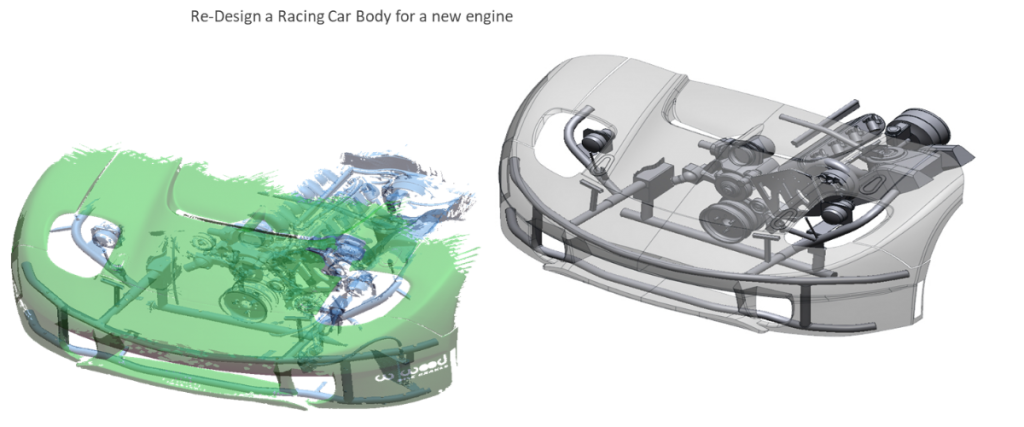 For instance, A standard TATA Safari can be converted into an EV with the help of 3D Scanning as it helps develop the perfect CAD model that can be used for planning and custom modification. The interiors of any standard passenger car or caravan can also be refurbished into a brand new vehicle ready for a politician's rally.
Manufacturing of Automotive Accessories
3D Scanning provides substantial assistance to automotive accessory manufacturers. Let's delve into the reasons with the below case study example.
All vehicles, irrespective of model or variant, do not have the exact floor specifications. Automotive accessory manufacturers wanting to provide floor mats for any specific model and variant must have the floor specifications before they start designing floor mats. This is the point where 3D Scanning comes to the rescue. Instead of deploying the traditional
metrology methods to measure the vehicle floor, a handheld metrology 3D scanner can quickly scan the vehicle floor to produce As-Build data, using which end automotive accessories are designed for manufacturing the end part.
Cool, isn't it? It saves the accessory manufacturer's time and effort. It also gives more time for lifecycle testing and faster scale up their business.
Augment Clay Modelling to inspire Automotive Designing
Popular engineering design software like AutoCAD, ProE, and SolidWorks is an Automotive Design Engineer's playground. Sometimes, they first like to experiment with a plethora of new car model designs by building miniature prototype clay models. This gives them the freedom to visualize the vehicle model in different colors and shapes. Once a particular clay model is finalized, it then needs to be converted into a manufacture-ready CAD model.

3D scanning assists OEMs in this conversion with a quick turnaround time. At times, a single scan is not enough, and hence, the clay model is scanned multiple times to achieve the desired accuracy in the CAD model. The 3D image generated from 3D Scanning can also be used to develop a high definition A-class surface which can then be converted into an accurate engineering drawing.
Inspection of Outsourced Automotive parts
The 7QC tools and other advanced statistical methods are most helpful in troubleshooting issues related to quality. However, these methods are effective in Quality Assurance only when fed with accurate and reliable inspection data.
Yet again, 3D Scanning can be of substantial assistance in this area too. Just scan the outsourced automotive part to create a 3D image. Compare this 3D image with the original CAD model used to manufacture this part and generate a precise shape and dimensional report. Sounds easy? What do you say?
Headlamp housing samples from different vendors can be evaluated for fit, form, and function in a short time. Based on this evaluation report, OEMs can soon arrive at a decision to partner with any vendor.
This emerging way of conducting an inspection of outsourced automotive parts eliminates human error, saves time, and provides the ability to virtually deconstruct parts and pieces of an automotive part without physically destroying anything. Thus, the Quality team in any automotive manufacturing company can proactively find problem areas, fix details, validate and test objects before they are physically rolled out in production. This is a huge step toward controlling the Cost of Poor Quality.
Find Outright 3D Scanning Application for the Automotive Industry.
we can help you with the below automotive key solution
We can help you get the right 3D scanners for the automotive industry 
We can do 3D Scanning & Reverse engineering for automotive components
WE can perform any automotive 3D inspection
We can provide an automotive benchmarking service
Precise3D, a 3D Business solution provider, equips companies with advanced disruptive technologies, software & hardware that help their day-to-day productivity, increase profit, and turnaround time, directly improving their business.
We also provide 3D technical solutions that enable companies to avail highly specialized challenging short and long-term projects with our in-house & on-site 3D solutions
Disclaimer: The statistical information mentioned in this blog has been collected through secondary research and Precise 3DM is not responsible for any errors in the same.