3D Scanning is the process of as-build capturing an object's surface data to replicate its shape, enabling users to either manufacture the part by reverse-engineering it or check the shape and dimensions it through 3D inspection.
How does a 3D Scanner work?
All industrial 3D scanners work by capturing data from a physical object's surface to describe its shape in an accurate, digital, three-dimensional format. 3D scanners produce High-quality 3D scan data used for more than just inspection and dimensional analysis. The resulting 3D measurement data helps with accurate, more accessible digital inspection in a visual, in-depth reporting method. 3D scanners also work to replicate parts in reverse engineering, assure fit, form, and function of components in remote locations, validate CAD models of 3D printed parts, and open the door to more digital and manufacturing strategies.
Based on human factors and ergonomics, a wide variety of 3D scanners are available in the market, and each 3d scanner has its advantages and limitations. It's a commonplace to find handheld 3D scanners, desktop 3D scanners,, and long-range 3D scanners, but another category of 3D scanners has been gaining traction recently – the multi-functional 3D scanners.
As the words suggest, a handheld scanner is used to scan objects by holding the scanner in our hand. The long-range scanners must be mounted on a tripod to scan an object. Desktop scanners scan by placing the object on a small tripod and turntable either attached to the scanner as one unit or available as a separate part. But, the desktop scanner must be stationed on a desk and is limited to Scanning small objects only. The most significant limitation is that one scanner cannot replace the other. The long-range scanner cannot be used as a handheld scanner and vice versa. The handheld scanner cannot be fitted on a tripod. In contrast to all these types of scanners, the multi-functional 3D scanners are versatile and give the ability to scan by holding in hand, mounting on a tripod and stationing on a desktop. EinScan Pro 2x is a popular multi-functional 3D scanner based on the latest German technology. Let's learn more about it.
Why is Einscan Pro 2x called a multifunction scanner?
Its sleek and sturdy handle demonstrates that it can be used as a handheld device. Like any handheld device, it can be swayed to and from as far as our arms can reach. It has been engineered in such a way that it can be used as a long-range scanner with the provision to mount on a tripod. It can also be used as a desktop scanner by coupling it with an industrial-grade turntable.
There is more than meets the eye. As crazy as it sounds, this scanner can be used to recreate a 3D model of human beings too. You can build your own Madame Tussauds!
The Iron Throne of the most popular English Drama series – Game of Thrones, can now be yours too!!! All thanks to Einscan Pro 2x. You can create a replica of the throne with the exact colour and texture. This multifunctional 3D Scanner is a total solution to all 3D scanning needs and can help scan dreams into reality.
Let's Deep Dive into EinScan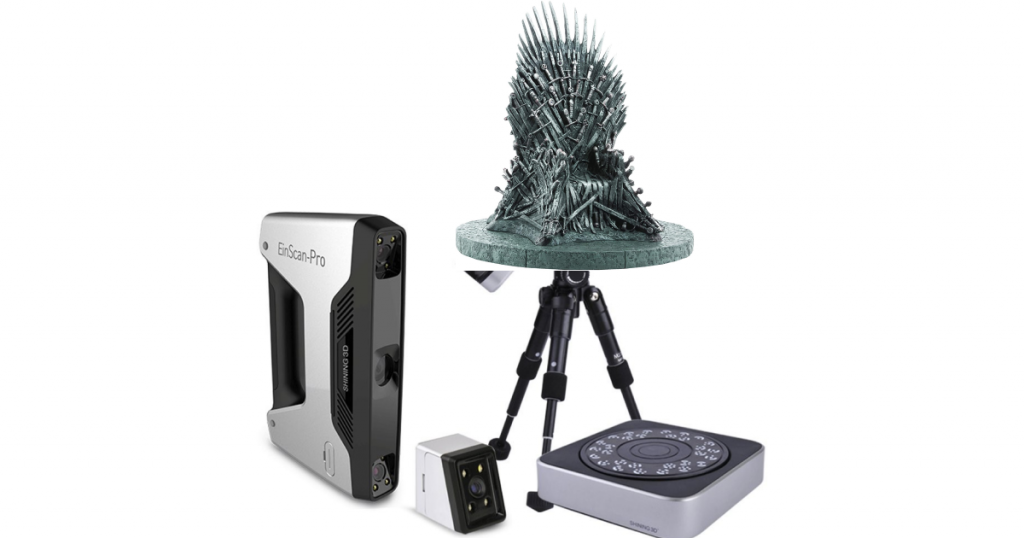 The Einscan Pro 2x is an integral part of the scanning ecosystem, making professional 3D Scanning much more accessible and easier to use for beginners, while also improving the image quality and overall workflow for advanced users. This handheld 3D scanner with the latest German technology is based on feedback from thousands of users. Being faster and more accurate than ever before, the portable versatile EinScan Pro 2X will improve the efficiency of high-quality 3D modeling.
Portable & User-friendly Design
With a lightweight and compact size, you can easily take the EinScan Pro 2X anywhere like a laptop, enjoy the plug-and-play installation and unlimited scanning experience.
Scan Faster than Ever Before
The latest development in data capture hardware and optimized algorithms, make the next generation EinScan Pro 2X a dramatic breakthrough in scanning speed, processing up to 1,500,000 points per second (30 fps) under Handheld Rapid Scan Mode. High-Speed Data Transmission using USB 3.0.
User-friendly New scanning software EXSCAN PRO
Color Pack and Industrial Pack, as optional add-ons to EinScan Pro 2X for various scanning experiences and applications.  
Solid Edge SHINING 3D Edition design tool from SIEMENS PLM Software
As a new generation of digital innovation platforms, Solid Edge SHINING 3D Edition includes reverse engineering, generative design, and simulation together with CAD tools in one platform. SHINING 3D EinScan series 3D scanners, integrated with Solid Edge SHINING 3D Edition, provide users the solution covering "3D Digitize – Design & Simulate – Additive Manufacture" to generate more high-quality 3D data for production.
Single scan accuracy under Fixed Scan without Turntable Mode is up to 0.04 mm. When using markers, the volumetric accuracy under handheld scanning modes is up to 0.045mm+0.3mm/m.
The minimum point distance is up to 0.2mm under Handheld Rapid Scan and Handheld HD Scan modes, generating high-resolution 3D data.
Versatile Scan Modes & Align Modes
Supports Handheld Rapid Scan, Handheld HD Scan, Fixed Scan without Turntable, and Fixed Scan with Turntable modes, as well as multiple alignment modes including feature alignment, marker alignment, texture alignment, turntable coded targets alignment, and manual alignment.
Modular Design to Meet Wider Range of Applications
Color Pack and Industrial Pack, as optional add-ons to EinScan Pro 2X for various scanning experiences and applications.
What is included in the EinScan Pro 2x Kit?
The full kit offers a total 3D scanning solution. It contains an EinScan-Pro 2X Handheld 3D Scanner, one tripod to enable fixed scanning, a turntable for automated small object scanning, and a texture camera to get a full-color texture with geometry. These add-ons enhance the versatility of EinScan Pro 2X to give you an amazing scanning experience. It is the ideal scanning solution for small to medium, high-resolution models.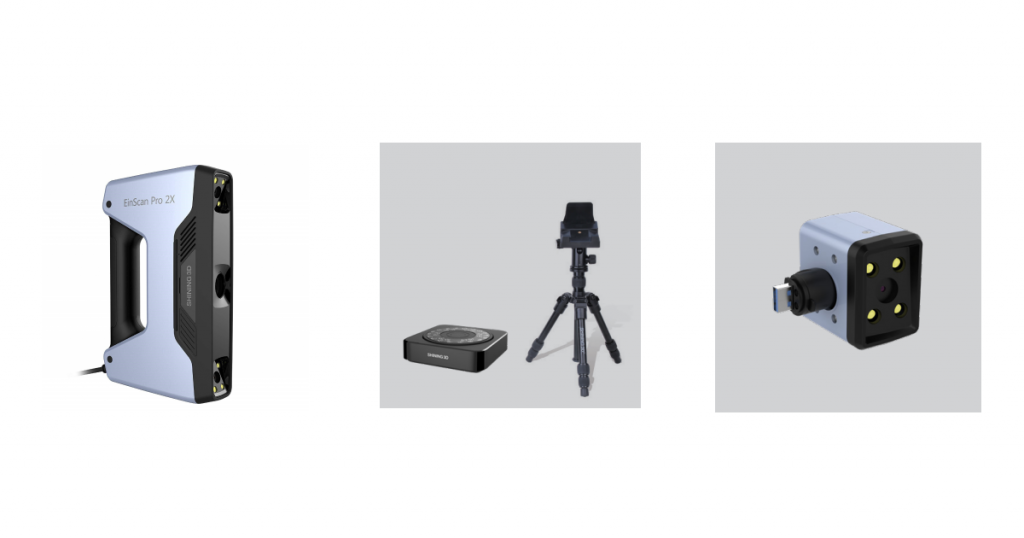 Book a demo for EinScan Pro 2x Multi-functional 3D Scanner
Does the multi-functional advantage of Einscan Pro 2x 3D Scanner sound too good to be true? Well, it is a truly portable and versatile handheld 3D scanner for high-precision results. We are sure our demo will speak volumes about the multi-functional capabilities of Einscan Pro 2x. Schedule a demo with us now by clicking on the 'Book Now' button below and our executives will get in touch with you real soon.
Precise 3DM is one of the most trusted 3D Scanner distributors in India. We provide Multifunctional 3D Scanners, Handheld Metrology 3D Scanners, Desktop Scanners, and long-range 3D scanners. Not only do we sell 3D Scanners Pan-India, but we also take care of pre-sales demos and post Sales support of 3D Scanners across the country. We have collaborated with multiple 3D Scanner manufacturers worldwide to bring a curated variety of 3D Scanners to India based on various industrial applications. As an added advantage, we are also an authorized distributor/reseller for Geomagic software in India. Based on industry-based applications, we bundle along with the scanner, the right set of 3D Scanning Software, Digital Reverse Engineering Software, and 3D Inspection Software at a discounted price.