It is common knowledge that reverse engineering is the process of recreating an existing object. Unlike forward engineering, a design engineer begins with the finished product and works through the design process in the reverse direction to derive the product design specifications.
Now let's understand What is 3D Reverse Engineering?
The process of 3D reverse engineering starts by gaining three-dimensional information about the object via 3D scanners, subsequently using the 3D scan data as a primary source to design the product in CAD, an environment to manufacture, tool development, CAE simulations, and much more downstream use of CAD. The accuracy of the 3D scan data captured will impact the quality and deviation of the Reverse Engineered model compared to the original.
Businesses may use reverse engineering for myriad industrial applications like restoring legacy components, filling-in missing CAD files, reproducing discontinued products, improvising product design, Digital Archiving and many more.
What is Geomagic Design X?
Geomagic® Design X™ creates manufacture-ready CAD models from 3D scans faster, more accurately and reliably than any other reverse-engineering and CAD software.
What Can You Do with Geomagic Design X?
Expand your design capabilities

Enhance your CAD environment

Accelerate your time to market

Leverage existing assets

Reduce costs

Manage the impossible
Now that you got introduced to Geomagic Design X and its application, let us now understand the top 7 reasons to use it.
1. Connect any 3D Scanner
Geomagic Design X supports high-end Industrial grade scanners from FARO®, Hexagon®, Artec®, Creaform®, Nikon®, and Geomagic Capture®.
Yes, Geomagic Design X empowers you to perform 3D scanning within its software interface.
 However, if 3D Scan files are already available to you, the user can import them directly into the software environment and start "scan to CAD" modelling. Almost all types of 3D scanners create output in standard.STL format.
2. Quick, Solid & Surface CAD feature creation (Semi-automatic)
Geomagic Design X helps its end-users semi-automate the creation of primitive solids and surfaces using wizard functions that you can perform automatically in seconds, including 2D sketch Plane, The original sketch, axis, and 3D feature, CAD body & surfaces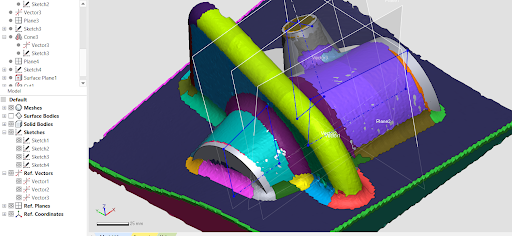 You do not have to always hand-select points to form sketches or rely on visual approximation edges of the scans to guess where the sketch goes. You should be able to easily fit sketch lines, arcs, and curves onto scanned images by best fitting to tens of thousands of points on a 3D CAD model.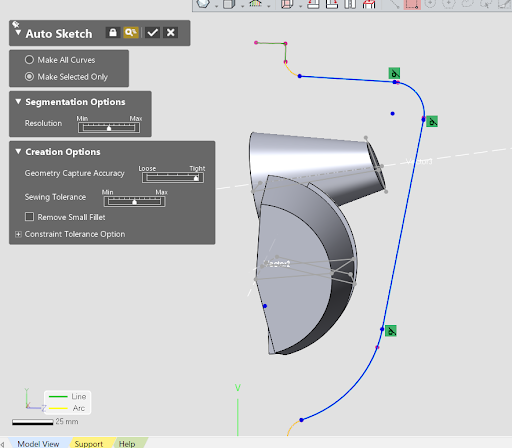 4. Live accuracy analyzer
In order to increase the accuracy, Re-working a 3D CAD model at the last stage of modelling is counter-productive. It just zaps out a designer's time and energy. Keeping this in mind, the Geomagic Design DX has an in-built function that analyzes the accuracy of the 3D CAD model based on the scan data in real-time. Geomagic Design X can run an accuracy analyzer at the end of modelling or during each step of the scan to the cad modelling process.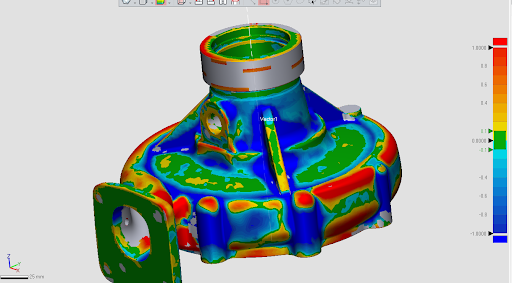 5. Powerful Live transfer function
You can transfer parametric CAD models with the entire design history directly from Geomagic Design X into popular CAD modelling software such as Solidworks, Creo, Inventor, NX, Autodesk and a few more. Thus, output files of Goemagic Design X can be editable in your in-house CAD platform to create native files that precisely represent the scanned objects.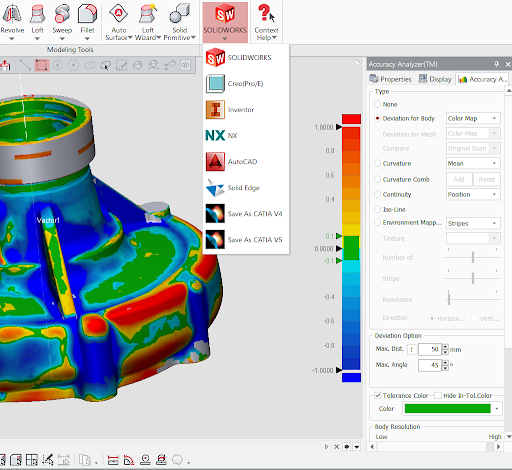 6. Hybrid modelling technic
The 3D scans you are trying to create a cad from are neither prismatic in shape nor completely organic all the time. Sometimes they are the mixtures of prismatic and organic freeform structures as toys. Geomagic Design X has unique tools & workflow called hybrid modelling technic to revere engineer the hybrid shapes that demand the parametric features and NURBS patches in the same 3D model.
7. Long-range laser scan to BIM, Scan to Factory
The concept of 3D Reverse Engineering applies primarily to manufacturing businesses. However, architects, surveyors, civil engineers, forensic professionals and others can also harness the high-end capabilities of this dedicated reverse engineering software.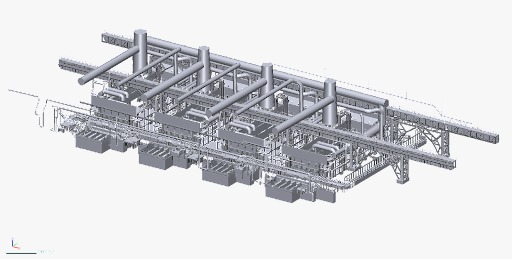 Geomagic Design X can handle and import long large scanner point clouds to create an as-built condition CAD model of the entire factory, building or any environment. You can use laser scan point clouds as a reference to model any civil cad modelling features such as complex pipes, architecture structures, walls, beams, MEP structures, factory machines in various LOD levels of details etc.
Bundle up  Geomagic Design X with your 3D scanners for a seamlessly reverse-engineered product in no time.