Every year on June 27th the world celebrates Micro, Small, and Medium-sized Enterprises (MSME) Day . The UN-designated MSME Day in 2017 to highlight the importance of MSMEs, and while the holiday is only one day each year, it's more important than ever to recognize the vital role they play in our global communities and also improve the ecosystem for them to thrive.
Since the start of the COVID-19 pandemic, MSMEs have been combating impeding lockdowns and economic misfortunes. Some have learned to pick themselves up and survive these unprecedented and challenging times, in part by rapidly leveraging digital tools. Other MSMEs around the world are still struggling, and in order to overcome the adverse effects of the pandemic, embracing the digital tide is crucial for this segment to survive in the long run.
In 2022, one such digital tool that ought to be leveraged by MSME businesses is a multifunctional 3D Scanner. A 3D scanner works by capturing data from a physical object's surface to describe its shape in an accurate, digital, three-dimensional format.
Based on myriad human factors and ergonomics, many types of 3D scanners are competing in the market with certain pros and cons. One can purchase handheld 3D scanners, desktop 3D scanners, long-range 3D scanners and the multi-functional 3D scanners. However, after reading our previous blog Multifunctional scanner Einscan Pro 2x on the multifunctional advantage of EinScan Pro 2x, you will realise that no contemporary 3D Scanner is as all-rounded as EinScan Pro 2x and comparisons are out of the question!
Whether you are an engineering service provider, a jeweller or any automotive service provider, you can now level up the game by harnessing its benefits. You need not break your head on finding the most suitable scanner for all your 3D Scanning needs but make a killing by serving your customers with umpteen customizations and a quick turnaround time.
Here are 10 reasons why MSMEs must buy an EinScan Pro 2x.
Usually, the unifunctional 3D scanners are very expensive for Indian buyers as there are no 3D Scanner manufacturers in India yet. One must purchase them from dealers and can cost anywhere between 10-70 lakh rupees.
In contrast, the EinScan Pro 2x multifunctional 3D Scanner costs only 7-10 lakh rupees. A whopping 40 – 80% saving! For the price sensitive Indian MSME industry, this is an alluring offer. 
In addition to this, it also offers total value for the money that you invest. One can use the same multifunctional 3D Scanner for handheld scanning applications, desktop scanning applications and Colour scanning applications as well. You don't need to pay through the nose and purchase a dedicated scanner for each 3D scanning application. Unlike other 3D Scanners, EinScan Pro 2x, is also safe to scan the human body. It can be used for both industrial and non-industrial applications like scanning statues, wood carved articles, flowers, leaves, jewellery and more.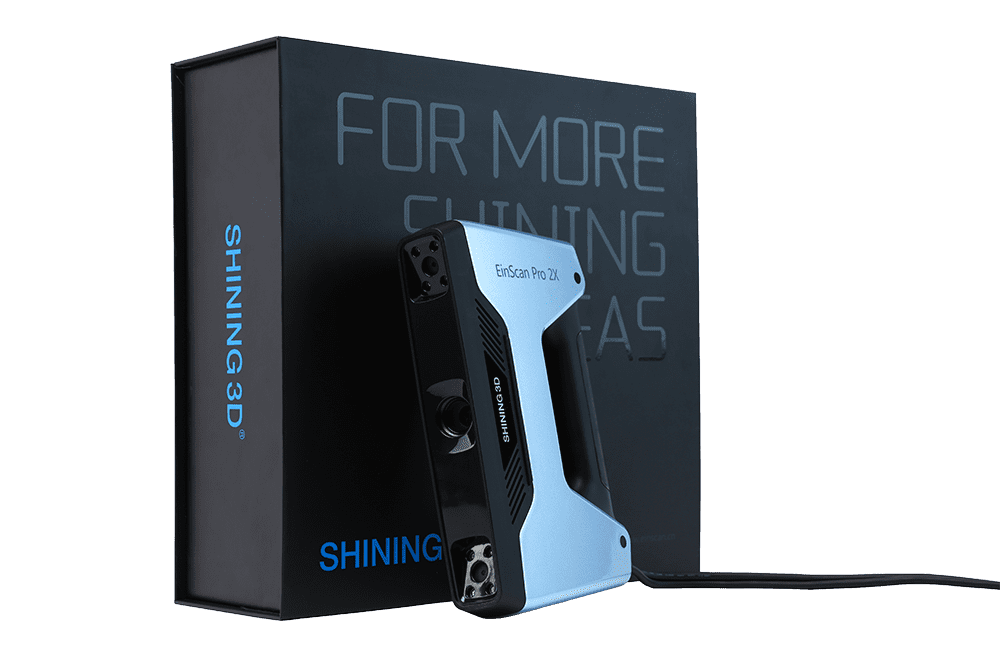 This lightweight and compact 3D Scanner can be carried anywhere like a laptop. You can carry this in your backpack to perform 3D scanning tasks on-site at the customer's place. The full kit contains an EinScan-Pro 2X Handheld 3D Scanner, one tripod to enable fixed scanning, a turntable for automated small object scanning and a texture camera to get a full-colour texture with geometry. All of this can be carried in flight check-in trolleys or cabin baggage.
Unlike other 3D Scanners, this multi-functional 3D Scanner need not be sent to the OEM for yearly factory calibrations. Ta-da! You can do it yourself within a jiffy! All you need to do is follow some steps to calibrate the device. It's that simple. This saves you the time and money required to send the device for calibration. The device stays with you all the time so that you can cater to your customer's needs anytime. 
4. Colour/texture capturing ability
This high-end and flexible scanner powered by the latest German technology enables its users to capture a high resolution 3D image of objects. Thus, the exact colour and texture also gets captured. This realistic 3D image can be used to develop manufacture-ready CAD/CAM files in multiple formats like STP, OBJ, IGES, STEP etc.
5. Facilitates Unique 3D Scanning Applications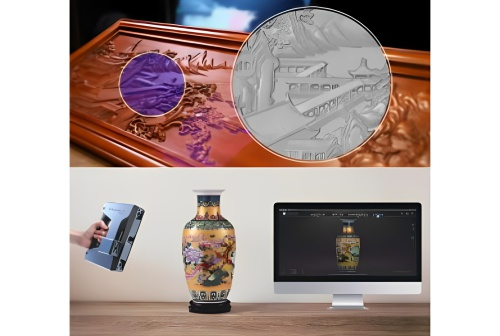 Besides the conventional applications of 3D Scanning, EinScan Pro 2x can be used for unique 3D scanning applications as well. It can be used for scanning small objects like plastic water bottles to large objects like the Statue of Liberty. Not forgetting that it can capture the colour and texture of objects too. This is not the end of the list. It can empower you to cover almost 50% of the general 3D scanning applications.
Thus, the EinScan Pro 2x can add value to industries like Automotive, Aerospace, Education, Die Casting, Electric Vehicles, Mining, Die and Moulds, Plastic component manufacturing, Pumps & Valves, Consumer Products, Heavy Engineering, Textile, Construction Machinery, Visual FX, Press Tools and sheet metals, Power and Energy, Defence, Jewellery, Engineering Services, Archaeology and Heritage preservation, Agricultural Machinery, Tire manufacturing, AR/VR, Foundry and more.
Operating the EinScan Pro 2x is easy peasy. After purchasing the scanner, 30 mins of training by our authorised personnel is sufficient to learn how to use it. No prior knowledge is required to get started. You can start using this scanner for customer orders from the same day it is purchased.
EinScan Pro 2x gives an accuracy of 40 micron which is double than the accuracy provided by a vernier calliper. Thus, EinScan Pro 2x is demonstrably a high-end industrial grade 3D Scanner.
Single scan accuracy under Fixed Scan without Turntable Mode is up to 0.04 mm. When using markers, the volumetric accuracy under handheld scanning modes is up to 0.045mm+0.3mm/m.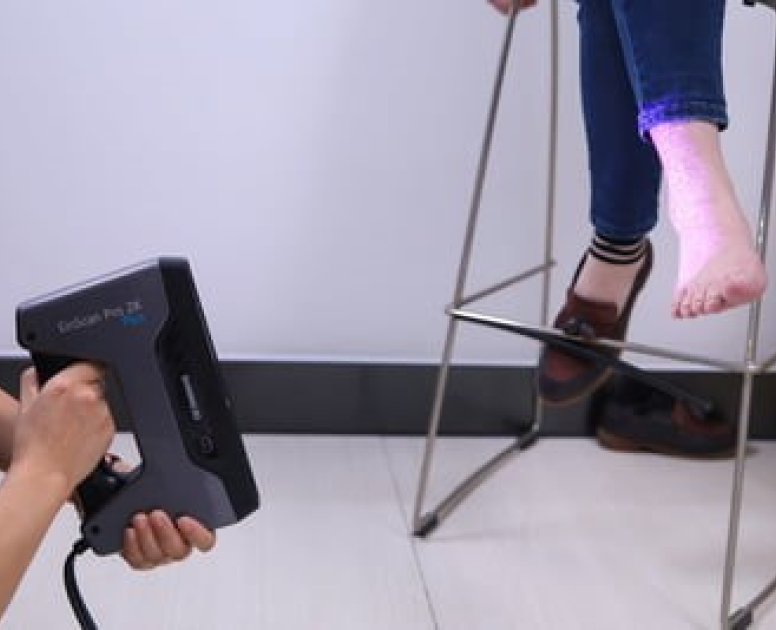 The key distinguishing factor of EinScan Pro 2x is its ability to scan the human body without any health risks. Featured with white LED light, EinScan Pro 2x scans and creates a digital 3D image of the human body without causing any harm to the human skin or altering the skin colour or skin tone. Other application dedicated 3D scanners use laser light and hence are not fit for biomedical scanning applications. 
It is certified as Class 2M eye safe and affirms to CE norms.
At the heart of every 3D Scanner is a software program. As a result, EinScan Pro 2x comes with an in-built 3D Scanning software called Exscan.
Exscan aids image-based alignment of 3D scans and thus, improves the efficiency of 3D scanning efforts. The scanned shots are registered in the software and the output can be extracted in STL format. As a result, it is not necessary to reposition the target object and scan it in different poses in order to cover the entire object. Hence, correspondence between the scans is not lost due to change in position of the object.
10. Digital Reverse Engineering Software Add-on
This 3D Scanner also comes with a free software by Siemens – Solid Edge, that facilitates basic digital reverse engineering and eliminates the need for dedicated third-party reverse engineering softwares.
Book a demo for EinScan Pro 2x Multi-functional 3D Scanner
How about a demo at your office? We can visit your office or any other preferred location to give a demonstration of the multi-functional capabilities of Einscan Pro 2x. It is a truly portable and versatile handheld 3D scanner for high precision results. Schedule a demo with us now by clicking on the 'Book Now' button below and our executives will get in touch with you real soon.
Precise 3DM is one of the most trusted 3D Scanner distributors in India. We provide Multifunctional 3D Scanners, Handheld Metrology 3D Scanners, Desktop Scanners and long range 3D scanners. Not only do we sell 3D Scanners Pan-India, but we also take care of pre-sales demos and post Sales support of 3D Scanners across the country. We have collaborated with multiple 3D Scanner manufacturers worldwide to bring a curated variety of 3D Scanners to India based on various industrial applications. As an added advantage, we are also an authorised distributor/reseller for Geomagic software in India. Based on industry-based applications, we bundle along with the scanner, the right set of 3D Scanning Software, Digital Reverse Engineering Software, and 3D Inspection Software for each applications.