Are you from out of India and still want to scan your components here? Don't worry! You can still avail of 3D Scanning Services in India.
Precise 3DM (www.precise3dm.com) is the largest 3D Scanning service provider in India for digital reverse engineering and digital inspection applications. We are equipped with many different types 3D Scanners that address all types of applications.
Why are we the best in India?
All our 3D Scanners come along with a genuine calibration certificate. As a result, the measurements are very accurate and can be trusted blindly. We also provide prompt support after the completion of the project, and we are present across India. Thus, getting tech support from us will never be a challenge in any part of India.
We only use 3D Scanner models that are the latest in the industry equipped with the latest hardware and software technology. For this reason, all our deliverables are of very high quality and unmatched accuracy.
Our team of experts has gained a lot of experience over the past couple of years. We can help you in choosing the perfect 3D Scanner based on the nature of your requirement. We consider factors like size of the object to be scanned and expected levels of accuracy. 
Simply put, you can scan anything from anywhere and achieve your business goals very smoothly. 
How do you get started on your journey?
Step 1: Ask for a Rapid Quotation
Visit our website PRECISE3DM to explore the 3D Scanning products and Services offered by us. Once you have a rough idea of which 3D Scanning service is suitable for your application, click on the 'Get a Rapid Quotation' by scrolling to the '3D Scanning Service Workflow' section on our home page. After clicking on this button, you will be directed to another page that displays the '3D Scanning Service Quote Form'. Fill up the details requested in this form.
Quick Guide on filling up the 3D Scanning Service Quote Form
It will take just 5 minutes of your time to fill-up this form. It has six pages in total and page requests for different types of information.
Page 1: Only your basic details like Name, Company Name, Address, Email ID, Phone Number, City, and State are requested on this page. You must also choose whether you want a GST bill or not. If you wish to receive a GST compliant bill for the 3D scanning service availed from us then, please do enter your GST number. Fields marked with a red asterisk are mandatory.
Towards the end of the page, you will get the option to upload images of the objects that you wish to 3D scan. You may upload as many pictures of each object as possible in any of the following image formats – jpeg, jpg, gif, png, tif, tiff, webp, jfif, ico. However, the cumulative size of all your images must be less than 20MB. Images can be uploaded from your laptop or desktop only. Click on 'Next' to navigate to the next page. You can always come back to this page before submitting the form and edit your data.
Page 2: Answering the question on this page, will help us understand the scale of your requirement. Whether you are looking for a 3D Scanning service for small components like a Buddha statue or large objects like a ship or a manufacturing unit, we are there to support you.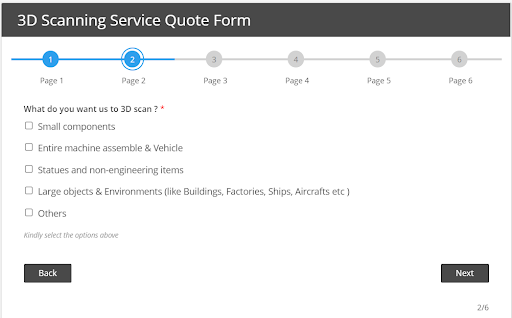 Page 3: On this page, specify the approximate size of your object and the number of objects that you want to scan of the same size. 
For example, you might want to scan a buddha statue and a wooden toy, and a flower vase; all the same size – 500 to 1000 mm. On the contrary, you might want to scan just one vintage aircraft for your collection. Make sure that you have uploaded the relevant pictures on Page 1.
Fill in the appropriate details and then click 'Next'.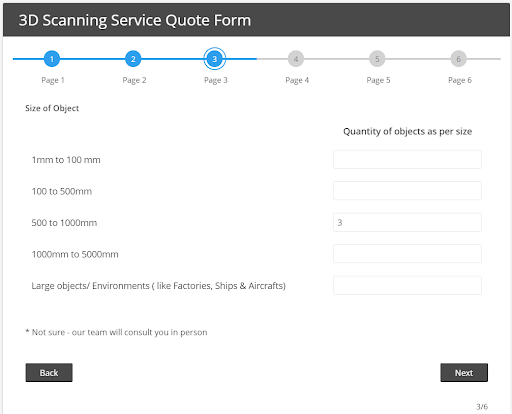 Page 4: On this page, we try to know the expected accuracy level of the 3D Scan output and whether you are looking for an On-Site or In-house scanning service.
In On-Site Scanning Service, our executives will travel to your preferred location along with a scanning kit to deliver a 3D Scanning service. You will have to bear the food, travel, and accommodation expenses in addition to the 3D Scanning Service charges. These expenses can be negotiated during our detailed discussions. On selecting this option, you will see the blanks to fill in the address of your preferred location and the date on which you want our executives to reach your location.
On the contrary, under the In-House scanning service, you will have to ship the objects to be scanned to one of our 3D Scanning centers located across India. Here, the shipping charges will have to be borne by you. On selecting this option, you will get to see three more options – I want to courier the parts, I want to visit the PRECISE3DM Scanning Centre, and I want PRECISE3DM to arrange to Pick up & Drop service.
It's okay if you are not sure about which type of service to select. Our Sales team will guide you on what is best for you.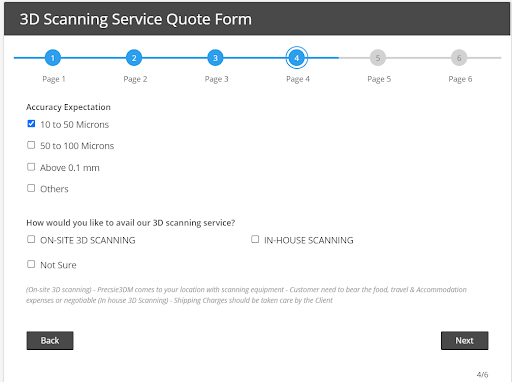 Page 5: On this page, you can select one or multiple 3D Scanning techniques – Structured light 3D scanning using Blue or White light, Handheld laser 3D scanning, long-range laser 3D Scanning, Laser Arm 3D Scanning, Texture/Colour 3D Scanning.
Get in touch on our toll-free number 1800 202 0036 to get a detailed explanation of the benefits of all the above 3D Scanning techniques.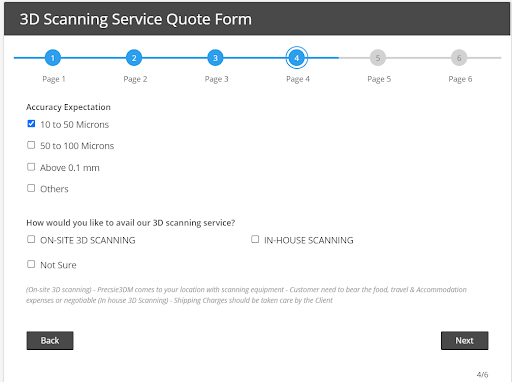 Page 6: Lastly, specify the desired format of the scanned output and a brief description of the project.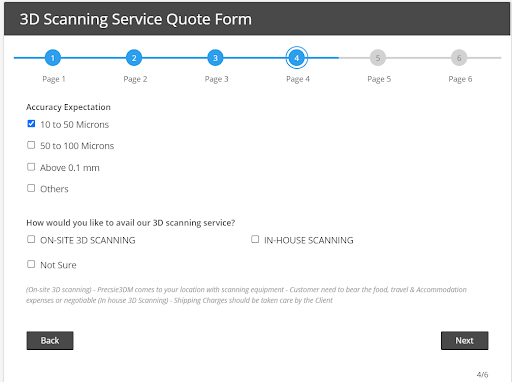 Step 2: Select a suitable 3D Scanner
After you have filled up this form, our sales team will get in touch with you to discuss your application and guide you in selecting an appropriate 3D Scanner. 
Step 3: Get the part scanned
After selecting a suitable 3D scanner and finalizing the commercials, we will start work on the logistical arrangements in getting the objects scanned. You can courier the objects to us, or you can visit one of our 3D Scanning centers across India or our team can travel to your preferred location with a 3D scanning kit. Then, all you need to do is sit back and relax.
Step 4: Collect your files
Our team will securely transfer the processed 3D Scanned output to you online. Do not forget that we provide prompt tech support even after the completion of the project.
That's all!
Just avail of high-quality 3D scanning service in India by following the above four steps.
Book a demo for EinScan Pro 2x Multi-functional 3D Scanner
How about a demo at your office? We can visit your office or any other preferred location to give a demonstration of the multi-functional capabilities of Einscan Pro 2x. It is a truly portable and versatile handheld 3D scanner for high precision results. Schedule a demo with us now by clicking on the 'Book Now' button below and our executives will get in touch with you real soon.
Precise 3DM is one of the most trusted 3D Scanner distributors in India. We provide Multifunctional 3D Scanners, Handheld Metrology 3D Scanners, Desktop Scanners and long range 3D scanners. Not only do we sell 3D Scanners Pan-India, but we also take care of pre-sales demos and post Sales support of 3D Scanners across the country. We have collaborated with multiple 3D Scanner manufacturers worldwide to bring a curated variety of 3D Scanners to India based on various industrial applications. As an added advantage, we are also an authorised distributor/reseller for Geomagic software in India. Based on industry-based applications, we bundle along with the scanner, the right set of 3D Scanning Software, Digital Reverse Engineering Software, and 3D Inspection Software for each applications.